Shirts For Men
Clothing serves many purposes: It can serve as protection from the elements, rough surfaces, rash-causing plants, insect bites, splinters, thorns and prickles by providing a barrier between the skin and the environment. Clothes can insulate against cold or hot conditions, and they can provide a hygienic barrier, keeping infectious and toxic materials away from the body. Clothing also provides protection from ultraviolet radiation. Wearing clothes is also a social norm, and being deprived of clothing in front of others may be embarrassing. 
Shirts suit men of all ages They come in a range of colors, designs and patterns.You can find casual shirts,formal shirts, and party wear options as well. While shopping for these clothing items, you can also buy trousers, shoes, sunglasses, hats, etc. All these options will give you a well balanced and stylish look. Before you head out to work, you can put on an outfit that's not only stylish but also comfortable. This way, you'll be able to be more productive at work without looking too casual. Before a big date, you must ensure that you dress to the nines so that you're more comfortable while talking to your date. Make sure that you spray aromatic perfume before stepping out. This way, she'll find it hard to resist a second date. You can also dress in your finest before heading out to a party. This way, you'll stand out in every picture that's taken, you'll be more comfortable to socialise, and so on.
Here is our guide to men's shirt for all occasions:-

9 TYPES OF SHIRTS EVERY MAN NEEDS TO OWN :
 
Primary
1. Linen Shirt
Linen shirts are the perfect option for days where you feel like you're melting. Made from ultra-breathable fabric, it is traditionally worn in casual and smart casual settings. Opt for a light color such as white or blue; it will make you look instantly cooler. Roll up the sleeves and pull on a pair of light chinos for the ultimate summer appearance, or rock it with jeans and a blazer for a slightly more formal approach.
2. Classic Short Sleeve Shirt
Roll up your sleeves with style in a classic short sleeve shirt. Similar to the traditional button-down, this shirt style has an open and pointed collar. It is a stylish option for a casual day at the beach or a cafe. These shirts look great without a tie and with a pair of jeans, chinos or shorts.
3. Denim Shirt
The denim shirt is a piece of clothing that can instantly tie an outfit together. Be it a casual gathering or a smart-casual event, it creates an effortless sense of cool. The denim shirt is a timeless and stylish option for the days where you want to feel comfortable but look cool at the same time.
4. Polo Shirt
The polo shirt is a versatile and stylish piece of clothing and looks best at casual events. Unlike the T-shirt, it is made of woven fabric and is complete with a pointed collar and a few buttons at the neck.
You can choose from an array of sorbet colors for a day out on the beach, or darker shades if you're heading out for lunch with mates or the races.
5. Oxford Button-Down Shirt
Created by John Brooks in 1896, the Oxford button-down was an instant classic. Characterized by the thicker fabric and button-down collar, this shirt is a casual take on the traditional dress style.
It's perfect for many events, whether it be at a wedding or the office. Opt for lighter colors for a professional setting and darker shades for a casual event.
One of the biggest benefits to the button down at the time — and even still today — was that because of its versatility, it allowed men to spend less money on shirts since it could be worn with so many ensembles.
It was a true every man's shirt and one that came in basic colors but also some pretty great patterns and prints.
 
6. Cuban Collar Shirt
Get out your finest cigars and soak up the sun in a Cuban collar shirt. With short sleeves and an open collar, these shirts are an essential summer staple that makes you look and feel cool. Don't be fooled, this shirt doesn't have to make you appear like you're on holiday with the kids; you can look cool as a cucumber with the right styling.
With an array of colors and designs to choose from, you can keep it casual, no matter what your mood is. It is best for laid back events such as a festival or an afternoon at the pub, show a bit of chest and look slick all at once.
"Cuban collar shirts can quickly tip into the kitsch territory, where you look like you just stepped off a bowling lane or cruise ship," says Tom Banham, from men's online personal shopping service Thread.

As a rule of thumb, if the shirt comes in a fabric your oddball uncle would wear to a family barbeque, pass.
 
7. Overshirt
For the in-between seasons where it's too cold for a T-shirt alone but too warm for a coat, the overshirt comes into play. It is versatile and typically worn over the top of another shirt, whether it be a T-shirt or a button-down.
The beauty of the overshirt is its simplicity; opt for a plain T-shirt underneath paired with a block-coloured overshirt. Blues and grey are great for a night out, whereas neutral shades are best suited for day time activities. An overshirt for men, on the other hand, is not a wardrobe essential. Sitting somewhere between a light jacket and, well, a regular shirt, an overshirt is one of the few somewhat unnecessary wardrobe-based confections we men are treated to, and therein lies its beauty.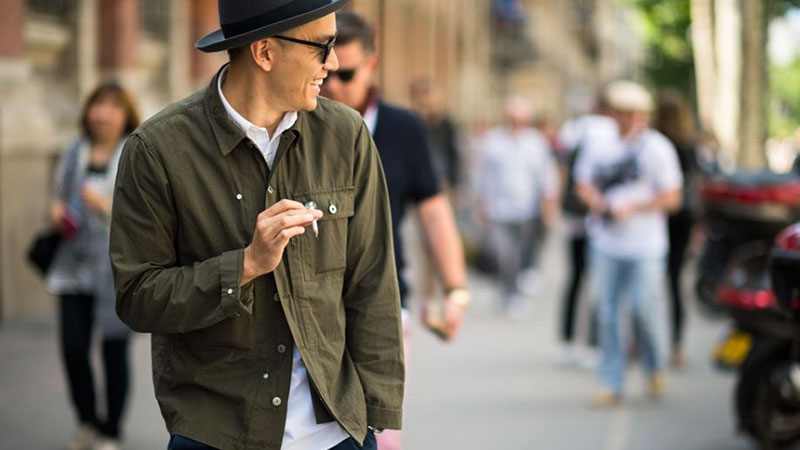 8. Flannel Shirt
Stay warm and stylish with a flannel shirt. Often seen on those who live in cold climates, the flannel shirt is made of thick, soft fabric and traditionally comes in a checked pattern. For those days where you need to keep warm, flannel is your best choice. Pair it with a T-shirt and jeans, and you'll be the coolest guy in the room.
Nothing says cool and casual quite like a flannel shirt. While the garment may be simple, it's also a wardrobe staple that every man should own. Although the name may induce thoughts of the country, it's time to think again. Flannel has made a comeback and is now regularly spotted on the streets around the globe. Check out this guide on how to wear a flannel shirt and you'll be rocking this casual look in no time.
9. Office Shirt
Roll up your sleeves and get to work while looking effortlessly smart. The office shirt is an ideal choice for those who work in a desk job; think business casual. Colors such as whites and pale blues are an excellent option for the workplace.
Opt for textures such as oxfords and herringbones for a more casual appearance without having to don a tie.
DesiPitara, as the name itself says "DESI-PITARA" so we not only have PITARA of shirts for men, you can also go through the link below, with another PITARA of Dresses for Women